The FTS Approach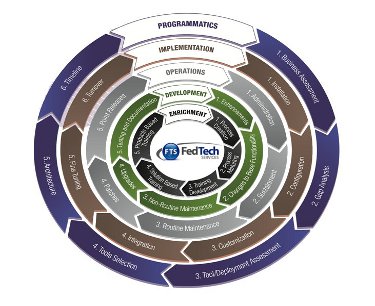 FedTechServices, INC has devised a five-level, hierarchical approach to its mission of making integration and Solutions Development simple. This approach to network consulting security encompasses five levels of consulting and Solutions Development tasks from Programmatics through Enrichment. In between are Implementation, Operations and Development.
The most common Solutions Development mistake is to "fail to understand the level where the problem is occurring," according to Allen Noble, CTO with FedTechServices, INC (FTS). "Clients frequently perceive an implementation or operations problem as an isolated event needing to be addressed. A security vulnerability perhaps has been identified and a software patch is requested. Such thinking leads to redundancies and incompatible solutions," he said.
The first step in the FTS Process is Business Assessment. Understanding the nature of the business and the tools already in place allows the FTS consultant to quickly develop a solution that is cost efficient and effective. A Gap in analysis identifies deficiencies in the current network architecture. An assessment of available tools can lead to recommendations for development of new tools or perhaps implementation of existing — but unused — tools. Understanding network management tools is critical to competently recommending proper tools selection. With tools and architecture identified and analyzed, a timeline can be established for implementation of a solution.
Implementation is the second level of the FTS Process. Attempting to implement a solution without conducting the first step in the process is a certain invitation to failure. Too often clients assume the proper response is the purchase of a new "box" from vendors eager to market hardware or software. That new "box," though possibly a part of the solution, cannot be implemented successfully without there being a step in the analytical process. As specialists in network management and security, FTS consultants can oversee installation, configuration and customization of a recommended solution. Integration with existing operations will be part of that solution. Fine tuning assures a seamless transition before turnover of a complete solution package.
The Operations level is at the heart of the FTS Process. With detailed knowledge of network management and security software, FTS services can include continued administration. Changes in the environment are inevitable and solutions must evolve to sustain continued successful operations. FTS can provide routine maintenance and patches as needed or point releases as new enhancements are released for hardware or software.
Solutions Development is an ongoing process. The FTS Process supports development as a continuing effort to cope with an ever-evolving environment. Enhancements to the solution are recommended for the system architecture and processes as needed, whether due to changes in available hardware and software or to changes in the environment. System architecture must address the inevitable need for changes to its base functionality as the environment demands additional services or offers new opportunities. Such development needs may include non-routine maintenance, upgrading or expanded testing, and documentation.
The innermost level of the FTS Process is Enrichment. Solutions Development is never static. Products and services evolve as technology evolves and as expectations and demands increase. FTS works with the client from Process Creation through Process Maturing to reevaluation, beginning the cycle again. Ongoing support is provided through training development, which may include customized solution-based training or specific product-based training. The FTS Process creates solutions that solve problems.
Our mission: To provide superior consulting services in network management and security software; to assist our clients by completing assignments in the shortest possible time without compromising the quality of the services.